This is how my Christmas morning went: Wake up with the fam, nibble on some tea and toast while opening presents, and while everyone else is getting ready before we head out for our Christmas day movie (True Grit was great, btw) I ferment some pizza dough. It mostly requires me babysitting the mixer so that it doesn't walk off the table. And while I sit in the darkened theater, watching Rooster Cogburn messily slur words out from beneath his soiled eye patch, my mind moves to the big bowl of dough sitting on the kitchen counter, tripling in size. We get back home, heat up the pizza stone as high as it can go, an prep the toppings while the oven pre-heats. There's not really much to prep, considering 75% of the toppings are left overs from breakfast and the rest I scrounged up in the pantry. So despite the obnoxious fussiness homemade yeast doughs bring to mind for me, this whole pizza affair was decidedly lazy and lo-fi. It was also delicious. We put away 8 pizzas, and my family valiantly taste tested which were "blog worthy." And if my mom's sensitive palette can agree with my dad's salty one and with Henry's teenage boy one, I think we have some winners.
The recipes all use the same dough recipe and all have the same rule: less is more. If you pile on the sauce and cheese, you will get a pooled depressing mess burned onto your pizza stone. Just administer as much restraint as possible and you'll be ok.
3 cups high gluten flour (I use King Arthur's Bread Flour), though All Purpose is fine too.
1 teaspoon yeast (half a pack)
1 3/4 cups warm water (about 70-80 degrees, not too hot or you'll kill the yeast)
In a the bowl of your electric mixer, combine all of the ingredients except for the olive oil. Stir gently to combine. Attach the dough hook to your mixer and on the second highest speed (8 on a Kitchen Aid) knead the dough for 15 minutes, or until it has formed a ball on the hook and has completely pulled away from the sides of the bowl. The best test to see if it's elastic enough is to pull off a tablespoon of dough and stretch it into a square. You should be able to pull it thin enough to see light through it without it tearing. It is tears knead it for another minute. When it's ready, knead on the highest level for an extra two or three minutes. Lightly oil a container with olive oil, add the dough, and cover with a lid (or plastic wrap if using a bowl). Mark or mentally note where the dough is, and note where it should be for it to triple in size. Set aside in a warm spot (on top of the fridge is great) and let it ferment for 3 1/2 to 4 hours or until tripled in size.
An hour before making the pizzas set your pizza stone in the center of the oven and crank it up as high it can go for at least an hour.
When the dough is ready, scoop it onto a floured counter (it'll puddle out) and cut into four equal pieces. Cover with plastic wrap and let it sit for 10 minutes. When ready, pick up a piece of dough and stretch at the edges, moving the dough through your hands in a circle. It doesn't have to be perfect, just get it as thin as you can and put it on a flour baking peel or rimless cookie sheet. Add your toppings and bake for 7-8 minutes or until golden brown. Enjoy!
Cannelini Beans with Sage and Smoked Sea Salt
Drizzle your dough with olive oil and rub it in, covering the whole thing. Add about half a cup of cooked cannelini beans (or from strained and from the can), about five sage leaves, and sprinkle with smoked sea salt (regular is fine), and a good amount of ground pepper. Bake and revel in the crispy sage leaves and browned bean bits.
Bacon, Caramelized Onion, and Rosemary
1/4 cup cooked bacon pieces
1/4 cup caramelized onions
1 tablespoon rosemary leaves
Drizzle your dough with olive oil and rub it in, covering the whole thing. Add a bit (1/4 cup max) of grated mild cheese (mozzarella or talleggio is perfect) and add an equal amount of caramelized onions. Tops with a handful of cooked bits of bacon (just chop up bacon and cook it until not quite crisp) and some rosemary leaves. Sprinke with salt and pepper. Pop the pizza in the oven and bake for 7-8 minutes, and for an eztra bit of fabulousness, drizzle a couple of drops of truffle oil. Yum!
Burnt Honey Truffle Pizza
1/3 cup Sottocenere al Tartufo (you can get this at Whole Foods. Also, any melting cheese with truffle in it, or just some mild cheese with truffle oil sprinkled on after baking will work just fine)
Drizzle your dough with olive oil and rub it in, covering the whole thing. Pop in the oven and bake for 4 minutes, or until puffed and just starting to brown. Take it out and add the cheese and drizzle with a couple of tablespoons of honey on top. Sprinkle with salt and pepper. Baking the bread a bit before is to make sure the honey doesn't burn too much. A little caramelization is delicious, but too much and it can taste bitter. Bake for the remaining 4 minutes and enjoy.
This one is the winner, the Grand Poobah of pizzas. And why not? It's everything awesome about breakfast baked onto a handy piece of crunchy, chewy bread.
1/4 cup cooked bacon pieces
1/4 cup grated mozzarella
1/4 cup hash browns, crumbled
2-3 tablespoons tomato sauce
It will seem like a paltry amount, but seriously, any more sauce than this and you will have a mess on your hands. In the cooking process, combined with the melted cheese, it's the perfect layer of tomato hugging the pizza. Here's an example: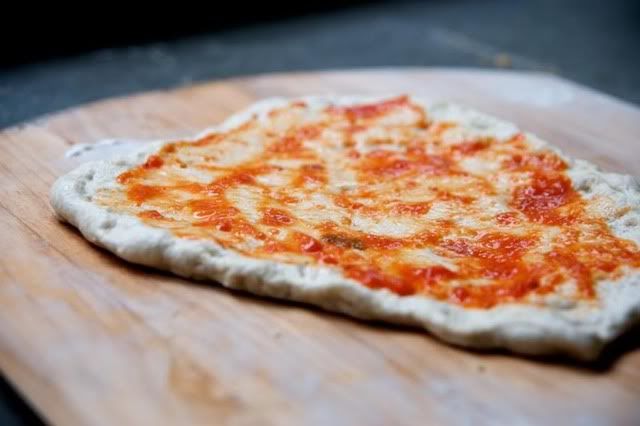 So smear the sauce on the pizza, just enough to cover the whole thing in a very thin layer. Add the cheese, hash browns, and bacon. Pop on the pizza stone and crack the two eggs on top of the pizza. Sprinkle with salt, pepper, and parsley. Bake for 7-8 minutes and eat ASAP. Not that that will be a problem. Enjoy!