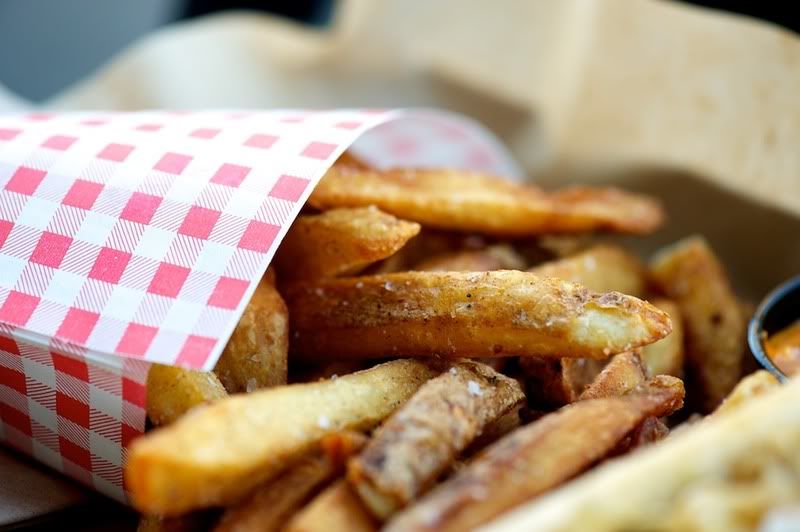 The Crunchiest, Saltiest, Most Perfect French Fries in LA
No bliss is so simple as the crunch of a golden brown, crispy yet fluffy, perfect french fry. It is my comfort food of choice, and the only thing I can't fathom ever getting sick of. When I'm sick, I feel like french fries, when I'm celebrating: french fries, when I'm lazy and I hen-peck my dad to cook: french fries. We have a very codependent relationship, that sort of "addicted to food" thing you see on reality TV programs. So if you're in the area, please check out my picks of LA's finest, ranging from oozy gooey chili fries to sweet potato to Belgian double fried. Enjoy the unapologetic deep fried goodness!
Father's Office
1018 Montana Ave
Santa Monica, CA 90403
Neighborhood: Santa Monica
(310) 393-2337
www.fathersoffice.com
Deciding between sweet potato and regular is so hard, so why choose at all? Go with the mixed choice of FO's savory best, served with their delicious house made aioli. These crispy critters go perfectly with the perfectly balanced Mirror Pond Pale Ale they have on tap.
Wurstkuche
800 E 3rd St
Los Angeles, CA 90013
Neighborhood: Downtown
(213) 687-4444
www.wurstkucherestaurant.com
Three words: white. truffle. glaze. Paired with the chipotle aioli, these Belgian style double dipped french fries are the perfect balance of fluffy inside, crispy outside, and not too "truffley." And alongside a chicken jalapeno sausage and tall glass of La Choufe Tripel, you can't go wrong.
Reddi Chick
225 26th St
Santa Monica, CA 90402
Neighborhood: Brentwood
(310) 393-5238
http://brentwoodcountrymart.com/food/food_reddi.php
This cash-only hole in the wall (literally) serves up simple fare: Rotisserie Chicken, Rotisserie Ribs, and lots of fried stuff. While I usually nosh on the fries al fresco in the Brentwood Country Mart Courtyard, be warned: if you take it to go the fries won't make it home, as you will keep stealing from the bag at every stop sign you hit. The secret seasoning salt it the key, transforming traditional greasy spoon fries into something special.
In n Out Animal Style
Any true Angeleno knows about In n Out's secret menu, so I'd be remise not include it on our best of list. Melted cheese, grilled onions, thousand island sauce, and the extra-super-secret trick of extra crispy fries, makes this the perfect snack stop on a road trip in Cali.
District's Chilli Cheese Fries
6600 Sunset Blvd
Los Angeles, CA 90028
Neighborhood: Hollywood
(323) 962-8200
districtonsunset.com
I love District's luxe take on chili cheese fries, smothered in Hook's aged cheddar and dry aged steak. Ooey gooey and totally over the top, they're the perfect bar food to get your thirst going.